Training
Save a loved one from dying from an overdose
Baltimore County, Maryland — September is National Recovery Month, and the Baltimore County Department of Health is offering a free, two-hour training on how to recognize, prevent and respond to an opioid overdose by using intra-nasal naloxone, a prescription medication that is used to reverse an overdose. Training is scheduled for the following dates:
· Monday, September 12, from 6 to 8 p.m.
Perry Hall Library
9685 Honeygo Boulevard, Perry Hall, Maryland 21128
· Tuesday, September 20, from 6 to 8 p.m.
Randallstown Community Center
3505 Resource Drive, Randallstown, Maryland 21133
Tuesday, October 4, from 6 to 8 p.m.
Sollers Point Multi-Purpose Center
323 Sollers Point Road, Dundalk, Maryland 21222
Wednesday, November 2, from 6 to 8 p.m.
Catonsville Library
1100 Frederick Road, Catonsville, Maryland 21228
The training is aimed to reach those who are concerned about loved ones or friends who may be at risk for overdosing on heroin or prescription pain medication. In addition to learning about opioids, participants will be taught how to recognize, respond to and prevent an opioid overdose.
The session will teach registrants how to administer intra-nasal naloxone to reverse an overdose. Participants will receive a certificate of completion, prescription for naloxone that can be filled on site, and a kit containing information and other materials.
Pre-registration is required and seating is limited. Register online at www.baltimorecountymd.gov/odresponse or call 410-887-3828.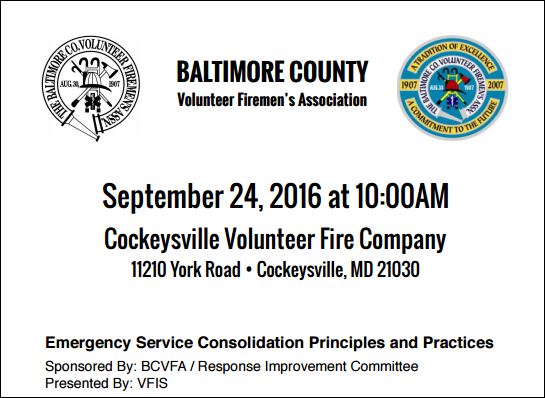 ---

MSFA SAFER Grant Tuition Reimbursement Incentive Program

POLICY
It shall be the policy of the Maryland State Firemen's Association to maximize the retention of qualified active volunteer fire and rescue personnel through the use of a SAFER funded College Tuition Reimbursement Program for any member or a member's immediate family.

GENERAL INFORMATION
Applicants MUST be current active members in good standing within their Fire Department.
Applicant must show cause that they cannot afford the tuition for their child or themselves without having to take on a 2nd or greater job that would reduce or eliminate the time that they currently spend volunteering in the community.
Applicants or Applicants family member must be a high school graduate or equivalent.
Tuition Reimbursement is for any field of study at an accredited college or university.
Students may only apply for two semesters per year. Students will not receive funding for a third semester in any given year.
A maximum of $2,000 will be reimbursed to each qualified recipient per semester, regardless of total funds expended by the student. Should there be insufficient applications; the SAFER Grant Project Coordinator reserves the right to provide additional reimbursement to qualified recipients, upon approval of the Grant Oversight Committee, on a case by case basis, based upon participation and level of school activity.
The decision on funding Tuition Reimbursements shall be made per semester, within thirty (30) days following the submission window for each semester.
The amount of the award may not exceed the actual cost of tuition and fees charged for courses.
When accepting money via the Tuition Reimbursement Program, recipients must sign a legal contract committing to the provision that the applicant active provider services for a period of one year following the award. In doing so, the recipient acknowledges that the failure to do so will result in a legal obligation to remit the exact amount of the reimbursement to the Maryland State Firemen's Associationwithin ninety days of the end of the calendar year in which the recipient failed to meet stated requirements.
This is a Tuition Reimbursement Program. Qualified recipients will only receive monies after successful completion of the semester for which funding is being requested and with proof of successful completion.
The Tuition Reimbursement Program is valid for School Years 2014 through 2018.

PROCEDURE
Applicants must complete the Maryland State Firemen's Association Tuition Reimbursement Application. The application, along with required documentation, including transcript, receipt of payment for courses and proof of other consecutive semester enrollment shall be forwarded via email to the MSFA SAFER Grant Project Coordinator immediately upon completion of the semester. Application packets will be accepted from February 1st through March 1st for the previous fall semester and from July 1st to August 1stfor the spring semester. Summer semester packets will be accepted from October 1st through November 1st. The fall semester of the 2014, the spring, summer and fall of 2015 school year shall be granted an exception and may be submitted for a period of thirty days following the effective date of this policy, which will be broadcast to the entire active membership. Following verification of active status for the previous calendar year, the applicant being a member in good standing, and the applicable priority of: Full-Time, Part-Time or Casual Student; reimbursements will be decided on a "first come first serve" basis and will end upon deletion of funds provided by the SAFER grant. Thus, the applications that are submitted first shall be given first consideration for funding, providing all other requirements have been met. Applicants will be notified in writing of the amount that they will be receiving prior to final reimbursement.

FUNDING
Funding for this program is contingent upon a Federal SAFER Grant, for a period not to exceed four years. Should this funding be withdrawn or eliminated, this Program could be eliminated.

EFFECTIVE AND SUNSET DATES
The effective date of this Policy is June 1, 2016. Unless otherwise provided, the sunset date of this Policy shall be at the conclusion of the summer term of classes in 2018
See the MSFA page for details (you will need a login)
---